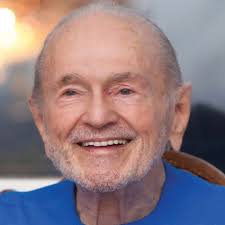 There is a peace and quietness surrounding Swami Kriyananda that give a hint of his spiritual stature.

Many times I listened to him speak, and have always come away feeling refreshed and energized. It is not only his lectures, teachings, and books that shed light on areas of darkness and confusion in people's lives.

Above all, it is the example of the man himself, the peace and calm that surround him, the spiritual power that emanates from him, pointing the way to each person's own inner path to enlightenment.

—John Harricharan, Body, Mind, & Spirit magazine
In 1948 at the age of twenty-two, Swami Kriyananda (J. Donald Walters) became a disciple of the Indian yoga master, Paramhansa Yogananda.
At Yogananda's request, Swami Kriyananda devoted his life to lecturing and writing, helping others to experience the living presence of God within. He taught on four continents in seven languages over the course of 65 years. His talks, his music, and his many books have touched the lives of millions.
Swami Kriyananda took the ancient teachings of Raja Yoga and made them practical and immediately useful for people in every walk of life.
Many of the Acharyas at Ananda in Kolkata have had the extremely good karma to be close with Swami Kriyananda for many years. Many Ananda devotees have had the wonderful blessing of meeting Kriyanandaji in person or at his public talks when he came to Kolkata in February 2013.
Swami Kriyananda passed away on April 21, 2013 at his home in Assisi, Itay. He was 86 years old. He led a life of incredible inspiration and devotion, and literally touched the lives of millions of people through his writings and his incredible life sharing the ancient teachings of yoga.