Tulsi Bose's House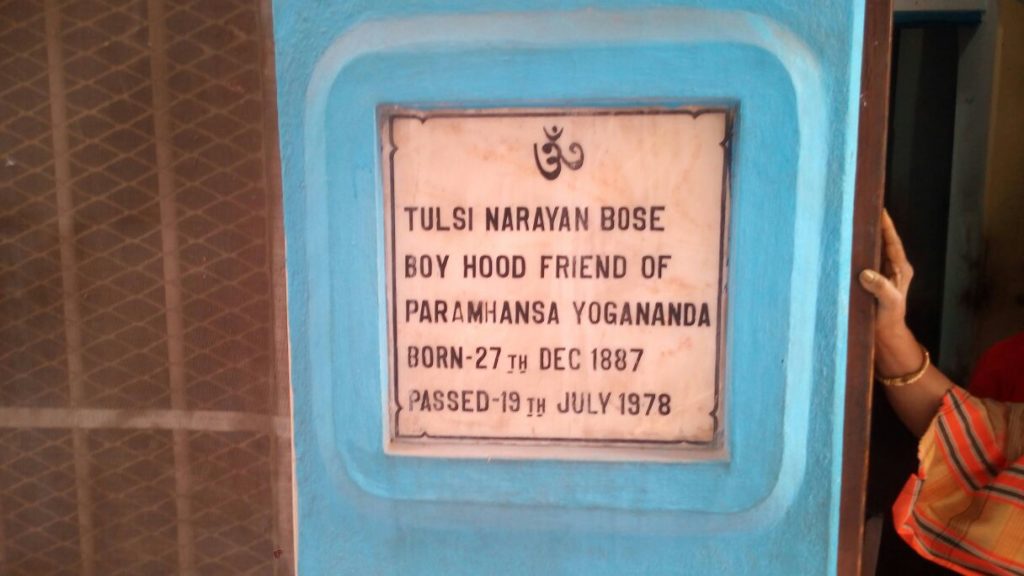 Ananda Sangha Kolkata is happy to announce the possibility for people to visit the house of Tulsi Bose on pilgrimage while in Kolkata. Master often visited Tulsi's home and meditated there. Although Tulsi Bose is no longer in his body, his daughter Hassi Mukherjee resides in the house.
This extract is taken from the book Shaped by Saints written by Devi Mukherjee.
" … when Master returned to India in 1935, he stayed with
Tulsi
and Martan Ma in their home. He also blessed the child in Martan's womb, saying, " This child will be a girl, and will be very devoted." He gave Martan an apple " for the baby," whose name was Hassi, which means, " Laughter." Indeed, Hassi has always been blessed with a happy disposition."
(Devi is the husband of Hassi Mukherjee.  Martan Ma and Tulsi Bose were Hassi's parents.)
For more information to visit the house, please contact Debjit.
Phone:+91 9830049508,E-mail:chakrabortydeb71@gmail.com
---
J.C. Bose's Residence
Close to Yoganandaji's childhood home, Mukunda(his childhood name) visited the great scientist who then invited him to his laboratory to see his crescograph.
"The poet is intimate with truth, while the scientist approaches awkwardly. Come someday to my laboratory and see the unequivocable testimony of the crescograph."
– Autobiography of a Yogi, Paramhansa Yogananda.
The museum has the original crescograph which Bose showed to him.
Museum Timings: Wednesday & Friday, 2:00pm – 4:00pm
Address:
Sir JC Bose Trust, Acharya Bhaban,93, Acharya Prafulla Chandra Road, Kolkata-700 009, West Bengal, India
Phone:(033)2360 0078 E-mail:sirjcbose@gmail.com
---
Bhaduri Mahasaya's (the Levitating Saint) Ashram
"I saw a yogi remain in the air, several feet above the ground, last night at a group meeting." My
friend, Upendra Mohun Chowdhury, spoke impressively.
I gave him an enthusiastic smile. "Perhaps I can guess his name. Was it Bhaduri Mahasaya, of
Upper Circular Road?"……."The yogi lives so close to my home that I often visit him."
– Autobiography of a Yogi, Paramhansa Yogananda.
Address of the ashram: 2B, Rammohan Roy Rd,Garpar, Raja Bazar, Kolkata, West Bengal 700009.
---
Dakshineswar Kali Temple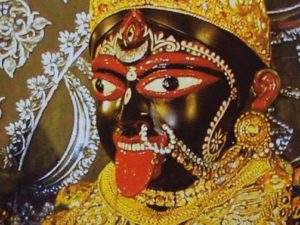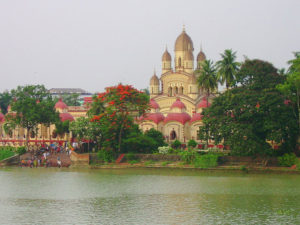 Yogananda describes two of his many pilgrimages to this temple, in his autobiography.
Here is an extract:"Silent Mother with stony heart," I prayed, "Thou becamest filled with life at the request of Thy beloved devotee Ramakrishna; why dost Thou not also heed the wails of this yearning son of
Thine?"
-Autobiography of a Yogi, Paramhansa Yogananda.