Nayaswamis Jyotish and Devi

Nayaswamis Jyotishji and Deviji
have served together as spiritual directors of
Ananda Sangha Worldwide
since 1984. With the passing of
Swami Kriyananda
, the founder of Ananda, in 2013, Jyotishji and Deviji are continuing to carry on the great work that he started.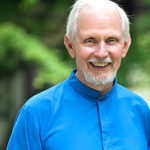 Nayaswami Jyotishji was named by Kriyananda as his spiritual successor after decades of helping him build Ananda's work around the world. Jyotishji began taking classes from Kriyananda in 1967 and together they moved to the rural property in the foothills of the Sierra Nevada Mountains of California in 1969, which is now a model spiritual community, Ananda Village. Nayaswami Jyotishji has lectured throughout the world and has helped establish Ananda's work in Italy and India. He has also written several books: Lessons in Meditation, How to Meditate, and three books in the Thirty Day Essentials series on marriage, career, and health.
Nayaswami Deviji first met Swami Kriyananda in 1969 and dedicated her life to the spiritual path. She and Jyotish were married in 1975, and have spent their life together serving Kriyananda and their guru, Paramhansa Yogananda, through teaching and outreach throughout the world. Devi is the author of Faith is My Armor: The Life of Swami Kriyananda and the editor of two books based on the teachings of Kriyananda, Intuition for Starters and The Light of Superconsciousness.
Stay connected to  Nayaswamis Jyotishji and Deviji by visiting http://www.jyotishanddevi.org/