Home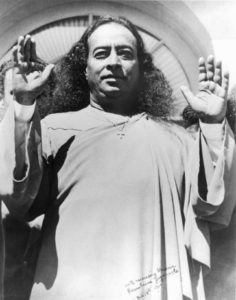 Upcoming Programs
26th November (10:30 am to 1:30 pm) – Level 2c (The Art & Science of Raja Yoga) Class for those who attended Level 1 Class earlier
3rd December (10:30 am to 1:30 pm) – Level 2d (The Art & Science of Raja Yoga) Class for those who attended Level 1 Class earlier
6th Dec (10:30 am to 11:30 am) –  Special Satsang with Nayaswami Devarshi at The Peerless Inn

(Free for all Kolkata Devotees)
10th Dec (9:30 am to 6 pm) –  8 hr Christmas Meditation with Nayaswami Devarshi and Brahmchari Jemal
17th December (11 am to 1:30 pm) – Review of Level 4 classes for Kriya Preparation for those who completed Level 4 successfully
23 Dec (10 am – 1 pm) – Healing Class (Based on Yogananda's Divine Will Healing Techniques) (Open for all ) Cost Rs.350/-
( Sunday Satsang from 11:00 am to 12:30 pm, when there is no other class / event during the time)
 (Please visit Calendar for full list of programs)
 Venue for all the programs (unless otherwise announced):
Pallavi Apartment
17, Ballygunge Park Road
(This road is the one opposite Gurusaday Road, near Ice Skating Rink.)
Kolkata- 19
Map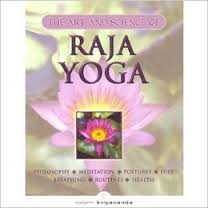 Level 2 Classes (The Art & Science of Raja Yoga)
We announce our new Level 2 Class series in Four Parts to start on 22nd October (Sunday).
The series presents a practical approach integrating yoga teachings of Paramhansa Yogananda into daily life. Guided meditations, pranayama, asanas, energization exercises as well as Patanjali's Ashtanga Yoga sharing Right Attitude for Spiritual Progress, Energy & Magnetism,  Chakras & Anatomy of Yoga, Affirmations,  Yogic Scheme of Life and more.
Each class will involve a guided Hong-Sau meditation, Pranayama and Asanas. We will also cover the Energization Exercises taught by Paramhansa Yogananda, with guided practice at each class.
The four classes will also give the students a thorough grounding in Raja Yoga as expounded by Paramhansa Yogananda.
The schedule and other particulars of the four parts are as under:
Part 2A – 22nd October 2017 – 10:15 AM to 1:30 PM
Part 2B –12th November 2017 – 10:15 AM to 1:30 PM
Part 2C – 26th November 2017 – 10:15 AM to 1:30 PM
Part 2D – 3rd December 2017 – 10:15 AM to 1:30 PM
Eligibility: Must have completed Level 1 class / 'How to Meditate' workshop earlier
Cost: Rs.350/- for each part. (A discounted price of Rs.1200/- is available for those who pay for all the four parts at the beginning). The course book on Raja Yoga priced at Rs.350/- for paper-back and Rs.450/- for hard-bound is to be purchased separately.
Those who have attended Level 2 classes earlier are welcome to attend the class again for free. Donations are welcome.
Weekly Live Webinar Satsangs
Brahmchari Jemal ji is conducting live Webinar Satsangs for Kolkata every Tuesday at 8:45 pm Indian Standard Time.  To register, please visit this link
To watch past satsangs please visit our Brahmachari Jemal Webinars page
For other webinars conducted in India please visit Ananda India Online
Recent Events
Photos of Level 1 Class conducted on 3rd September 2017
Group Photo of teachers and participants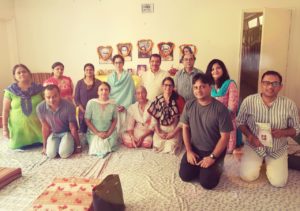 Photos of Level 2a Class conducted on 9th July.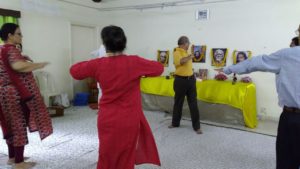 Veena ji conducting Level 3b.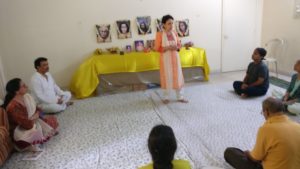 Recent Healing Session Conducted at Tulsi Bose's House.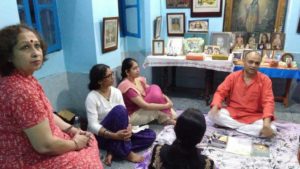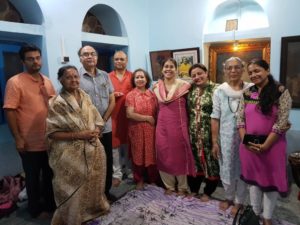 Autobiography of a Yogi Daily Wisdom App


Receive daily passages from Paramhansa Yogananda's spiritual classic,
Autobiography of a Yogi. 
Available now for Android devices at Google Play Store.
Learn More
JAI GURU!