Home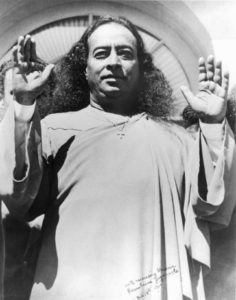 Level 2 Classes (The Art & Science of Raja Yoga)
We announce rescheduling of our Level 2 Class series in Four Parts to start on 16th April (Sunday).
The series presents a practical approach integrating yoga teachings of Paramhansa Yogananda into daily life. Guided meditations, pranayama, asanas, energization exercises as well as Patanjali's Ashtanga Yoga sharing Right Attitude for Spiritual Progress, Energy & Magnetism,  Chakras & Anatomy of Yoga, Affirmations,  Yogic Scheme of Life and more.
Each class will involve a guided Hong-Sau meditation, Pranayama and Asanas. We will also cover the Energization Exercises taught by Paramhansa Yogananda, with guided practice at each class.
The four classes will also give the students a thorough grounding in Raja Yoga as expounded by Paramhansa Yogananda.
The new schedule and other particulars of the four parts are as under:
Part 2A – 16th April 2017 – 10:15 AM to 1:30 PM
Part 2B – 23rd April 2017 – 10:15 AM to 1:30 PM
Part 2C – 7th May 2017 – 10:15 AM to 1:30 PM
Part 2D – Date & Time to be Announced Soon
Eligibility: Must have completed Level 1 class earlier
Cost: Rs.350/- for each part. (A discounted price of Rs.1200/- is available for those who pay for all the four parts at the beginning). The course book on Raja Yoga priced at Rs.350/- is to be purchased separately.
Those who have attended Level 2 classes are welcome to attend the class again for free.
Venue:
Pallavi Apartment
17, Ballygunge Park Road
(This road is the one opposite Gurusaday Road, near Ice Skating Rink. At the entrance of the road is a shop called 'Bhagya Lakshmi')
Kolkata- 19
Map
Informal Satsang and Get Together with Pune Devotees
All are welcome to a get-together with Brahmchari Devendra and some Pune devotees (who are visiting Kolkata on pilgrimage) on Saturday 8th April 2017 from 3 pm to 5 pm at Tulsi Bose's house.
Address:
39, Raja Dinendra Street, Kolkata- 9
Map link of a very nearby location of Tulsi Bose ji's house: 
Click Here
Metro route to Tulsi Bose ji's house:
1) Get down at Girish Park station.
2) Take an auto for Kakurgachhi
3) Get down at Raja Dinendra Street
4) Walk towards Tulsi Bose Ji's house – it's a 5 minutes walk
*Road Direction from south Kolkata*:
1) From Mullick Bazar Park Street crossing move towards Sealdah Flyover taking AJC Bose Road.
2) Cross Sealdah Flyover. Now the road's name changes to Acharya Prafulla Chandra Road.
3) Proceed straight for 2.2 km  and you will reach Rajabazar Science College (it's on the left side of the road).
4) Keep proceeding further straight on the same road for another 200 metres and then take right into Garpar Road (At the enterance of this road,  there is a small Shiv 'mandir' on the right hand side)
4) Proceed 250 metres and you will see on the right hand footpath an NGO called CHILDREN INTERNATIONAL
5) Turn left into Raja Dinendra Street. Proceed for about 30 metres. *You have reached*
*Road direction from north Kolkata* :
1) From Maniktala crossing, taking Acharya Prafulla Chandra Road, move south (towards direction of Sealdah) for 400 metres.
2) Turn left into Rammohan Roy Road
3) Proceed straight for 190 metres
4) Turn right into Raja Dinendra Street.
5) Proceed straight for 100 metres. *You have reached*
Recent Events
A wonderful time was had by all during Vivek and Cecila's visit to Kolkata.  A three hour program included chanting Master's Cosmic Chants, chanting Aum with Master's voice, meditation, a purification ceremony, affirmations, and a beautiful inspiring talk.
Pictures of Recent Events
Attendees of the the Light of God program
Cecila and Vivek give blessings
Autobiography of a Yogi Daily Wisdom App


Receive daily passages from Paramhansa Yogananda's spiritual classic,
Autobiography of a Yogi. 
Available now for Android devices at Google Play Store.
Learn More
Weekly Live Webinar Satsangs

Brahmchari Jemal ji is conducting live Webinar Satsangs for Kolkata every Tuesday at 8:45 Indian Standard Time.  To register, please visit this link
To watch past satsangs please visit our Brahmachari Jemal Webinars page
For other webinars conducted in India please visit Ananda India Online
JAI GURU!